コース紹介 -Course-
コンボツアー【休止中】
ラフティングも!キャニオニングも!欲張りに楽しみたい! ★★★☆☆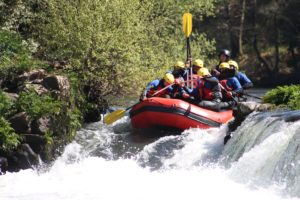 ラフティングもキャニオニングも楽しみたいあなたに!
集合場所/宇奈月スノーパーク内中島スキーセンター(地図 https://goo.gl/maps/d5rh0)
集合時間/8:45 ツアー時間/8:45~16:00
開催時期/4月中旬~7月下旬
料金/おひとり様17,600円~
※シャワー設備はございません。
 ご希望の方に近隣の日帰り温泉をお知らせします。(料金別途)
マニアックオーダーツアー
ハイグレードなコースをお客様の希望に合わせてアレンジ! ★★★★★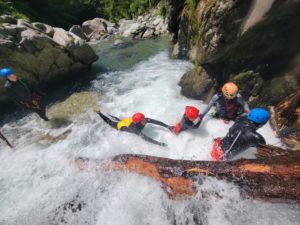 ラフティングもキャニオニングも楽しみたいあなたに!
ベテランガイドがサポートします。
・ベストな時期に
・記念日に
・写真撮影に(機材輸送費別料金)
料金/おひとり様¥30,000~
※おふたり様~
※シャワー設備はございません。
 ご希望の方に近隣の日帰り温泉をお知らせします。(料金別途)
---
Noticies
Belongings
swim suits or underwear, towel, changing clothes, shoes with heel and shoelace don't mind getting wet.
★Rental shoes 24cm ~29cm ¥500
* If you wear glasses, please bring a strap
If you wear contact lenses we recommend using disposable contact lenses
Important Notice
* Tours will still run if it is raining though excessively high water may cause the tour to be cancelled
*Cancellations made by customers (includes decreasing of booked numbers) 10 – 7 days before: 20% 6 – 2 days before: 30% Day before: 50% On the day: 100%"
* Pregnant ladies cannot participate on this tour
* No alcohol is permitted prior to the tour. Furthermore, anyone who cannot participate on the tour due to having consumed alcohol will be liable for cancellation charges
For your safety
*Canyoning is an outdoor sport that takes place in the great outdoors.
Unlike amusement park rides, there is a higher chance of getting injured because you will be walking on a riverbed with many stones and a slippery riverbed. Well trained guides explain and give instructions to support safe tour.
*If you do not follow the guide's instructions or do not do as instructed, the probability of getting injured increases.
Please understand these things and participate in the tour.
---
How to Book ?
STEP.01

Choose your course

Please choose your favorite course.

STEP.02

Application

Apply online or by phone.

STEP.03

Reservation

You will receive a reservation completion email from J-WET, and your reservation is complete.

STEP.04

On the day

On the day of the tour,meet at a designated place

STEP.05

Payment

Payment can be made online or in cash on site

STEP.06

Enjoy!

Enjoy yourself to the full